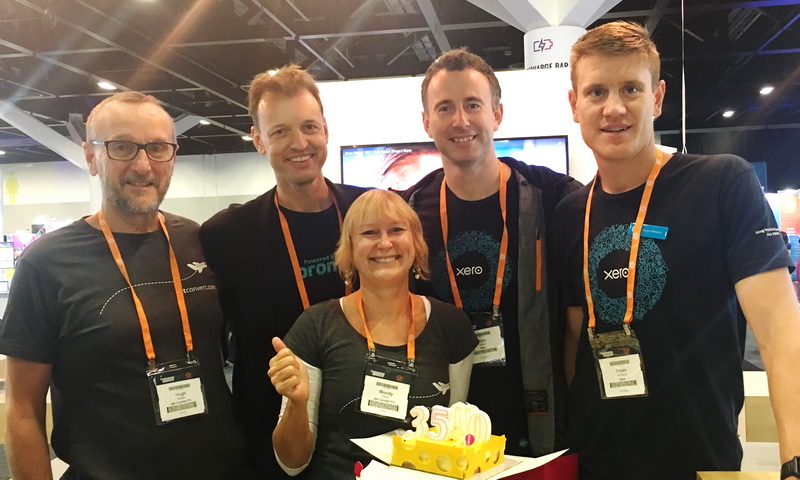 14 Apr

35,000 Conversions

Over the past 5 years Jet Convert has converted over 35,000 conversions into Xero.  We celebrated in a small way at the Accounting Expo in Sydney in March 2018. The Xero team was provided with a small cake and balloons.  Rob Stone, National Partner Manager with Xero Australia.

The conversion product has grown over that time from a manual process to a fully automated process today. It is like a production line.  The client uploads their file to Jet webserver secure portal, and then over 30 workers take that data and move it through 4 distinct processes:
Data Extraction.  Data is extracted from the source file. Some of the software products have SDKs or APIs to use, but most do not. Sometimes we have to resort to print out a report, convert to a CSV and import that data back in our software tool.
Transformation. Simple to complex. Transaction could be like a journal from the old source into the journal into Xero. But Xero has its own rules. E.g. You cannot do a journal to a bank account in Xero.  Our rule means we take that journal and split into 2 transactions. One is a "spend money" to a clearing account. The other is that journal but we use the clearing account to mimic the original source journal. We have over 200 rules to deal with this complexity.
Upload to Xero. The data is uploaded to Xero using their API, or sometimes we find other workarounds where there are no api's.  Five years ago there were few, but Xero's apis and SDKs hase grown .
Automated Checking. Multiple automated tests make sure that what you had in your source file is what you have in Xero.
When the automated process fails, and it could be on any one of the 4 areas or 30 workers, our highly trained team takes that particular conversion and uses human intelligence to figure out why it failed. Fixes it, and puts it back onto the production line. These issues are almost always due to the data that is buried in the source data  and it was probably human error months or years ago.
Photo above:  Dr Hugh Butler, Rob Stone, Xero Australia National Partner Manager, Alexander Kohl, MD Jet Convert, Bryan Williams, Xero Ecosystem Manager, Wendy Elms, Partner Manager, Jet Convert.