Updated May 6, 2021
Bank Account Mapping is available with Insight and Accelerate Packages.
Note that in QBO Bank Accounts may be referred to as Cash or Cash Equivalents.
Standard Package
Under the Standard Package we convert the chart of account based on the account type in the source file – for example:
Bank Account, Credit Card, Paypal – Will be setup as such in Xero (pending your bank feed connection)
Current Asset/Liability – Will be setup as Current Asset/Liabilities in Xero
Therefore please ensure that the Account Type is correct prior to uploading.
VERY IMPORTANT: Even if the Account Type is correct in the source, individual banks have different requirements to enable bank feeds. For example, some banks require 'credit cards' to be set up as 'bank accounts' in order to connect bank feeds. Review Xero's website for your banks requirements 
Bank Feeds Available in your country: Australia     United States    New Zealand
Selections to make for these particular bank account feeds.
If you have used Undeposited Funds for Sales ensure the source file and mapping are set up as a Bank – this can be archived later without this the transactions will not link to the contacts card. Whilst other clearing accounts may have been used in the source file, it is unlikely that these will be required unless to clear the remaining balance. Their account type is normally Bank Account in the source file, therefore you may wish to change these to Current Asset/Liability accounts prior to upload.
Old/Inactive Bank Accounts
Still need to be set up as a bank account to ensure that the transactions are treated correctly. Post conversion these Bank Accounts can be archived and removed from the dashboard.
Bank Account Mapping
If you map your bank accounts as current asset/liability accounts we cannot complete our quality assurance on bank reconciliation reports prior to delivery. In Xero you will be unable to complete a reconciliation moving forward. The link will also be lost between payments and contacts for this account in Xero.
The benefit of changing the account types to an asset or liability is that you are still able to make payments and manual journals to these accounts.
Below is an example of the screen you will see if you select the Insight or Accelerate package: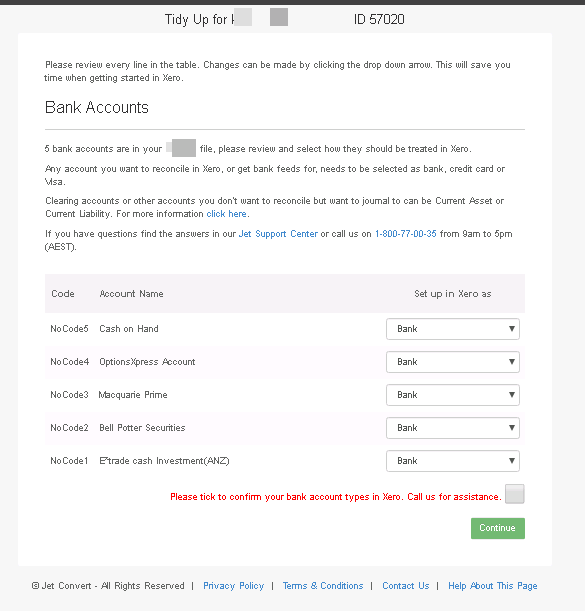 Changing Bank Accounts type in Xero post conversion means that the history will not follow the account due to being unable to convert a current asset/liability account in Xero to a Bank Account. Therefore having this flexibility during the upload can save significant time and transparency. Modify Account Types Post Conversion