24 Oct

Why Jet Convert – To the Cloud

Why should businesses and bookkeepers use automated conversion services to the convert from the desktop accounting software into Xero? That's easy – we do all the heavy lifting for you.

Have questions? Go to online FAQs for an immediate answer or contact one of the Jet Convert team and we will respond within 24 hours.

Or read on for more information about managing the move away from desktop to the cloud.
Moving from Desktop to Cloud  – Change Management
Over 20% of Australian businesses have taken the step of moving to a cloud accounting package. Xero is Australia's, New Zealand's and UK's preferred Cloud Accounting supplier. Is the process simple as the Xero advertising promotes? It is for some, but hard for others. Effective change management is critical to make that change from Desktop to Cloud. Some find the transition harder than anticipated. Change management can be thought of as 3 stages of a project.  Whether the change is giving up cigarette smoking, losing weight, or changing accounting systems it is always 3 phases. Explain. Pain. Gain.  If your business is more than a sole trader then consider these steps.
Explain

. You should move to Xero because ….. Is it the right product? Will it provide benefits to the business? Is the change a good return on investement.  Consider fully the reasons for changing an accounting system you may have been using for years. Understand why you are changing and what will be needed for a sucessful conclusion.

Pain

. All change involves some pain. Anticipate what pain you are going to have, and take proactive steps to minimise the new way of doing accounting. It might look similar but it is different and Xero imposes stricter accounting rules. Invoicing or payroll will be different. You've made the change, and I used to do payroll this way, but I have to get the pays done today and I don't know how!  Why is it different / complicated?

Gain

. Fantastic, I can see do my bank reconciliations, send invoices, see my cash position, payables, receivables, profit. Anywhere. Any time. Even in the bathroom.  I won't go back to my dinosaur system. I have 2 hours extra time each week. My books are up to date.
Jet Convert can be your partner in this change and we will do 3 things for you.
Shorten the time taken from beginning to end. We get you using the full power of Xero through one on one training – helping you with things you don't know and need to know.

Minimise the pain. We take care of all the things that can (and do) go wrong. We will simplify and help to change.

Maximise gains. We know how to really make Xero work for you, and help you focus on your business not on unproductive bookkeeping tasks.
Figure 1: This figure shows the steps in this change management journey.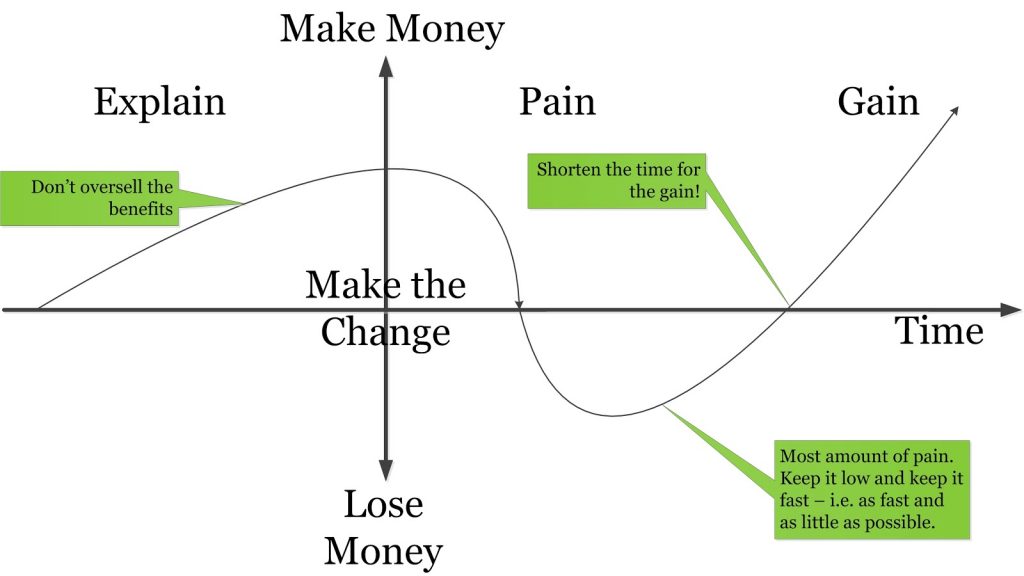 Jet Convert makes the  journey easy.
Lets use an analogy of taking a flight to a holiday destination.
Choose your Airline

AnyWhere, Any Time

Easy Booking

Take care of your luggage

Smooth Takeoff

Help is only a Call Button Away

Safe Landing

Safe Onward Journey
Select Your Airline
You have a choice. Xero. QuickBooks Online. Saasu. MYOB, Freshbooks, Sage. And hundreds more. Some do these five things ok, but Xero is the only package built from the core up to do real time, double entry accounting with multiple currency. It is the extensible with over 500 different add-ons to do whatever you specialise in. The choice is simple – select a modern airline flying the latest Boeing or Airbus fuel efficient, well maintained, with great passenger comfort for the long haul, or a 1980's design requiring constant servicing or breakdown. some of the decision criteria may include:
Can work from anywhere.

Provides a fantastic customer experience.

Improves productivity inside your/your client's business.

Lowers your/your client's operational costs.

Connects to other cloud technologies easily
The comparison is difficult. It is just like the airlines that include or don't include luggage, choice of seat, promotional codes, and charge extra for everything inconsistently.
Do not compare on price. Cheap can be nasty. Some vendors are cutting the price to get market share. Many offer promotions to gain customers but given most users stay with the software for at least 5 years, make the choice wisely. Most packages have features that are "extra". If the full cost of accounting systems is costed out with software, admin staff, bookkeeping staff and accountants the cost can be more than $30,000 to $50,000 per annum. You may save $300 per year on accounting software but end up spending $2000 a year on the Accountant who provides financial reports 8 months after the end of the financial year is false economy.
Feature
Xero
Quickbooks Online
MYOB Account Right Live
MYOB Essentials
Pricing

$25, $50 $60

Starter, Standard, Premier

$15 to $35

Simple start, Essentials & Plus

$55, $85 110

Plus or Premier

$25, $35, $45

Starter, Accounting, + Payroll

Invoicing

Unlimited in Standard

Version dependant

Y

Unlimited in Accounting

Bank feeds

Y

From Std

Y

Y

Payroll

1 with Standard

Priced to 200

10 with Simple

Unlimited

1 or unlimited

Inventory

Y

Y

Y

N

Users

Unlimited

1 for Simple, 5 for Plus

Limited to user licenses

Unlimited except only 1 advisor

Long term archive

Y

5-7 years archived

Y

Y

(desktop copy)

N – lose data after 3 months

Multicurrency

Premier

Y

Not in the AR Live.

N

Reporting

Everything. Fully customisable, best in class

From 20 to 60 dependant on version

150 reports

limited

Fully Cloud

Y

Y

N

Y

CashBooks and Ledgers

For Xero Partners

N

N

N

Add-On Products

Over 500

Over 250

200+

50
Anywhere, Anytime
Some of the outstanding features for Xero include:
It is simple to use, and up to date information at the touch of a button, on your watch. Your call.

Mobility – all you need is a browser and internet connection for Windows, Unix, Apple, IOS, Chromebook, Android.  An App for mobile devices enhances daily tasks.

Multi users. Add as many users as need. Your bookkeeper, accountant, your staff.

Automated direct bank transactions supported with Artificial Intelligence to remove the drudgery and cost of making sure your bank and your accounts are in sync. Always.

No PC storage, no drawers, filing cabinets, offices and storerooms of paper filings for invoices, receipts bank statements. The paperless office is here, right now. Tax Office Compliant, within your accounting software. Nothing else is needed.

Tailor made quotations, invoices, payment services and all the tools to help get money collected sooner and easier.

Integration with contacts from email (both Gmail and Office 365) so all of your communication can be viewed within the same context.

Easy to use expense claims help track staff expenses wherever they are based. Staff can also update their forms online, as well as photograph receipts via the mobile app.

Reduced bookkeeping costs. No more monthly expensive accounting fees for valueless adminstration. Work smarter. Not harder

Everything for a small business including inventory, quotes, purchase orders, fully featured payroll and tools. Real data, real time. In your time

No more expensive customer support, IT Support for those upgrades, when your PC fails and for trying to find someone to help you. Setup for new businesses is easy, but when moving from an old desktop system choose an expert to make the transition.

Xero is well funded, and the focus on investment provided over 1200 new customer facing improvements in 2016.

Designed from core to have zero software to upgrade. Everything available without one IT support person required.

Xero was the first to have an open, robust API and vendors have quickly enabled their products to integrate tightly with Xero. Addon products include CRM, payment systems, reporting, point of sale, inventory, HR, retail and vertical industry solutions. Instead of creating their own accounting system, they use Xero as the core accounting engine. Other software suppliers have been slower to provide those rich public API interfaces.

Excellent notes and history reporting for all changes, and Audit Assurance at the advisory level.
Easy Booking
Any time is good to go.
Whether it is the end of the financial year, the end of a GST or Tax quarter or in the middle of a month, any time is good to go. Jet Convert provides a mirror image of your data. Many convertees wait to the month prior to the end of the financial year to maximise the data with a free conversion, getting 23 months of data.

Plan to work in your old desktop today, be working in Xero within 3 days (or sooner if you do some preparation).  

If you have payroll in your desktop accounting package, we suggest do a payrun, reconcile the data and then convert. This gives enough time for us to help with the next payrun.

Schedule a training session to co-incide with taking over Xero and having bankfeeds operational. Bankfeeds can take a few days depending on your bank's process.
Of you are ready to fly now simply go to our website to start the journey.
Take care of your baggage
All you have to do is click OK
We take full care of your baggage. Is your data in MYOB, Reckon, Sage, BankLink or Excel correct? Is the baggage packed safely? We can provide that seamless care.

Our precheck service allows us or you to fix up some of the outstanding issues in your desktop software before changing to Xero.

Either just bring the carry on luggage (up to 2 years of all data and transactions) or get the premium economy ticket to get all the history you'll need.
Check in your baggage (old accounting data!) at our website.
Smooth Takeoff
Buckle your seat. Upload your file.
Start the boarding process at our website.
Help is only a Call Button Away
Sit Back. Relax
Xero and Jet Convert are full service providers, but whether a starter plan or a premium expect the best always.

Xero rolled out 1,200 customer facing enhancements in 2016 with many more you don't see in the background.

Jet Convert has converted over 20,000 desktop accounting packages over the past 2 years so we know the issues that can come up and we deal with them.

Jet Convert process is automated. Over 70% of files are fully automated. For those that have data issues and need to be checked by hand we have a team that reviews those failed transactions. There may be only 5 or 10 transactions fail out of 10,000, but perfection is our standard.

You are in safe hands. Jet's crew is fully trained, BAS Agents, Qualified Trainers, with 14 accountants and 25 Xero Certified Advisors, and developers skilled in Agile Methodology.. If you need more information, phone us, chat or email us. We do respond the same day. So you know you are in good hands.
Safe Landing
You have made your flight, landed safely, and picked up your bags. Now what?   
Follow the action checklist to make sure everything is nice and sorted

Contact your bank to get your bankfeeds flowing into Xero

Invite your bookkeeper and accountant into the organisation.

Review your office processes to make full use of the new software and cut out administration costs.
Safe Onward Journey
Seasoned travellers (Xero Partners) know how the data has come across and are out of the terminal onto their adventure immediately. Others may be more cautious and / or want more help.
For bookkeepers and new Xero Partners, Jet Convert has complimentary training to fully explain what to do and what not to do for their clients.
For Business owners, Jet Convert provides coaching and support to those who are not familiar with Xero, how the data has come across, and want guided tours, excusions, where to dine, and how to get the most out of the package.
Grab a monthly plan for ongoing support.

Get help to get going faster.

Learn what you need, omit the stuff you don't.  

One on one coaching with your data.

We will help you streamline your financial processes

Help you set up smart rules

Show how to pay for purchases so you spend less time in administration and more time on the tools

If you have payroll, we will review your payroll settings, help set up users to access their own information, walk through superannuation payments. Lodging Tax department forms. Show how simple BAS is.
Our Value Bundles
Our website has full details of our Jet To The Cloud Packages. We are your personal concierge throughout this process and over the next months or years.  We can be your 1:1 Xero coach, proactively helping you to get the most out of Xero.
Pre-conversion:

Pre-conversion check performed

Phone Back support on questions

Conversion:

Chart of Accounts,

Contacts, Open invoices & bills, Unreconciled transactions, Items, Jobs/Categories

(if less than 500),

Payroll setup (with payroll balances, all employee details, pay items and templates – if less than 200 employees paid)

Additional full transaction history – up to 2 years
Additional history – with only monthly comparative balances
Custom Chart of Accounts Mapping. Use the Custom Chart of accounts to bring your clients varying COA to a standard with Xero's Report Codes

File fixes (incl Mac, multiple locations, verification etc)

Support:

Initial 1:1 20 min set-up session post conversion

Personalised coaching in Xero

Phone Back support within 2 business hours (quick question 5-15 mins duration).