10 Dec

New improved Xero conversions!

Updated December 2018
We are very excited to share our updated conversion service and website. It is a huge step forward in getting even more complete data into Xero.
Our conversion service also includes a whole pile of new stuff including eliminating some of the headaches that come from hidden data. The only thing we don't do is make your morning coffee!
In a nutshell:
New simple conversion process
The process is so simple – our software does the grunt work for you.
We will get in touch when we need your input and when the conversion is complete.
Step 1 – File Analysis
Load your file. We analyse the data in the file, including what financial year it is in and how far back the data goes.
Step 2 – Select Service
Choose from the service options available to you. Based on the file analysis you can select the transactional history start date.
Step 3 – Review Details
With our premiums services, next you tell us how you want the data to be treated in Xero for bank account types, and custom tax codes.
Step 4 – Complete
Don't start anything in Xero. At completion of the conversion you receive the new Xero org complete with your accounting data. There is also an Action Checklist with recommended next steps.  Please allow 3 business days for MYOB files & 5 business days for all other software types.
Detailed history for the current & previous financial year
Xero has extended the sponsorship to cover an additional year of history. This means that free conversions can start from the previous financial year (FY) and give you heaps more data to refer back to.
Our software will read your file and determine the earliest starting point for transactional history and give you the choice of how much detailed data to include. For more history look at one of our premium packages and select an earlier history start date or comparative balances for more comprehensive business information in Xero.
With MYOB files, the maximum amount of history that we can provide depends on the Financial Year (FY) setting in your file. For example if the MYOB file is in the current FY then we can only go back as far as the start of the current FY for transactional history.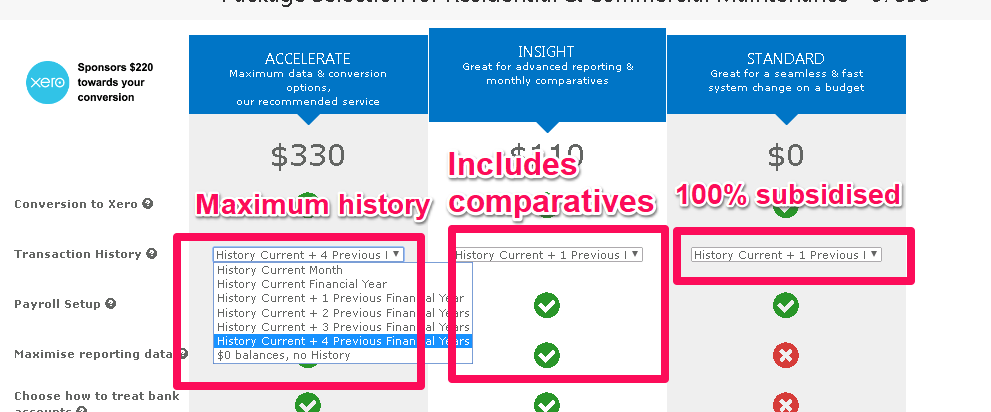 Monthly comparative balances to go back even further
The monthly comparative balances service is beneficial for longer term reporting. Monthly journals will be applied to both P&L and balance sheet accounts. This is an optional premium service available with the Insight and Accelerate packages.
This is ideal for situations where you want to track business performance over a period of time or understand seasonality.

Due to the initial step of transforming Mac files into a Windows format, the monthly comparatives history is restricted for AccountEdge conversions.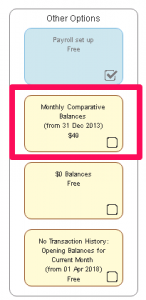 Conversion review for an even better Xero set up
With premium packages you can decide how thedata will be treated in Xero. This ensures it will work according to Xero's accounting rules.
Custom tax codes
Xero has a set list of tax codes that flow through to the BAS report. If the source file contains tax codes other than what Xero permits we will ask you to set the tax codes to how they should appear in Xero.
If relevant to you, this will appear as part of the conversion process.

Bank account types
In most cases only bank accounts that require a bank feed or reconciliation should be set as a bank or credit card in Xero. Often the source file has accounts incorrectly marked as bank, which is very time consuming to change in Xero.
As part of the conversion process, we show you which accounts are "bank" in the source file and to which date they are reconciled. That way it is easy for you to select the correct bank account types before the conversion.
We recommend that anything that requires a bank feed and reconciliation be set as a bank or credit card and everything else as asset/liability so that you can journal to them.
Tidy up of source data included
This is where it gets really exciting.
We actually fix up some of the hidden 'nasties' that might be in the source file so you don't have to deal with them in Xero. Our conversion service aims to address some of the more common issues we have encountered. These fixes are free as well, thanks to the Xero sponsorship.
If any of the following apply to your conversion we will advise as part of your conversion Action Checklist.
Deposits Against Orders
Files with deposits against orders cannot easily be converted into Xero.
We used to warn you and ask you to fix this in your source file before starting the conversion again. Now, with MYOB files we automatically turn these orders with deposits into future dated invoices/bills so that the conversion becomes even smoother for you.
Multiple use of Accounts Receivable/Accounts Payable
If the trade debtor and/or trade creditor account(s) have been used as a linked account for something else our conversions used to fail. Trade debtors and trade creditors should only be used once within the linked accounts.
Now we fix this in the MYOB files prior to conversion.
Tax codes other than 0 or 10%
For Australian files, Xero works better by just using the standard tax codes. If you have used tax codes with a rate other than 0 and 10% but pure GST (e.g. 5.5% for long term rental) we split all the transaction lines into a GST component (at 10%) and a GST free component to get correct BAS reporting happening in Xero.
Order received but not invoiced
A file cannot be converted if it contains open orders with items received, but no invoice raised. This is because an item's value cannot be determined until it is a bill.
If such transactions are in your source file we will address them prior to conversion.
Multi currency
We currently do not convert files with multi-currency
Pre-conversion fixes now available
Previously if we encountered certain files, we were unable to convert. Now with the assistance of additional software we can do the following for a small fee.
We manage the entire process and only invoice you if we are successful in completing the conversion to Xero. You will be asked for approval before we proceed.
Please contact us if you would like to discuss.
Macintosh
We are unable to read the data from MYOB AccountEdge Mac files.
We hold licensed software which we can use to transform the data into Windows compatible format for a fee.
Verification errors
Sometimes database errors in MYOB don't allow us to use our cloud based conversion tool. A good indicator that this might be the case is if you cannot successfully run the verification process in MYOB.
If you cannot fix the Verify errors yourself our conversion partner can give it a go. On most occasions the fix is successful and we can continue with the conversion.
Multiple Locations
Xero only allows one Location.  This paid service transforms the file into a format compatible for import into Xero.
Xero Action Checklist
To make it even easier for you and your clients to get started in Xero you receive a customer Xero Action Checklist at the end of a conversion. It outlines exactly what steps you need to take to complete the conversion.
We have reworked it to make it even more useful and focused on the things that are relevant to you.

Wow – that's a lot!
Yes there are quite a few improved features within our service but the great news is that you don't have to worry about remembering any of this as it will be all displayed on your unique conversion URL as you navigate through the steps.
If you have any questions our Knowledge Base & Support Center is just a click away for an immediate answer.
I hope that you enjoy the new conversion experience and would love to hear from you what you think – just pop in a comment below.
Wendy