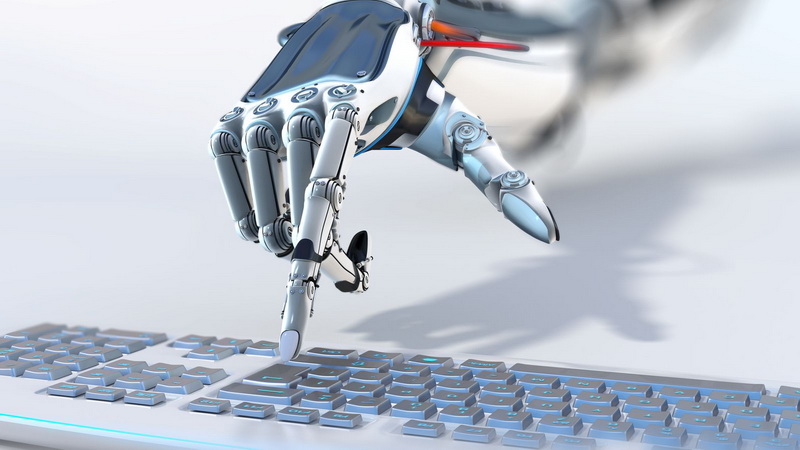 14 Apr

Robots are Coming

"Robots and AI are coming sooner than you realise and will take many of our jobs"
Cook, CEO of Apple, told Bloomberg last year about the potential for Autonomous Electric Vehicles said "There is a major disruption looming there. You've got kind of three vectors of change happening generally in the same time frame," He was referring to self-driving cars, ride-sharing, and electric vehicles.

What is not often seen or talked about in the Accounting and Bookkeeping Profession that there is major disruption coming to this profession as well; Cloud Accounting, Business Process Re-enginering, and Robotic Process Automation. Bill Cline, the national US advisory leader for digital labor at KPMG said robotics are the biggest inflection point of the industry since global sourcing. He says "a lot of people know that physical robots are being used in factories, or even that AI [artificial intelligence] is being used in medical diagnoses, but I don't think many people understand how extensively software bots are being used to automate previously manual business processes and functions."

Predictions of the degree of robots varies by the consulting group. Accenture says 40% of transactional accounting work by 2020.
Robotic process automation (RPA) or machine learning (ML) is the use of a software robot or "bot" that replicates the actions of a human to execute tasks across multiple computer systems. According to Deloitte, a minute of work for a robot is equal to about 15 minutes of work for a human. In 2015, Accenture predicted robotics would automate or eliminate up to 40 percent of transactional accounting work by 2020. This headline does not recognize the accounting profession is slow to change. E.g. Xero found in UK 18% of accountants still use pen and paper.
Potential Job Losses in the Accounting Industry
While concerns are front and foremost about probable job losses with introduction of driverless cars; many fail to see that machine learning in the form of robots and AI in the bookkeeping and accountancy sectors are as advanced or more so. Furthermore, there are no legislative or cultural barriers to fast progression in this industry. No driver tests, no road rules.
The number of professionals employed in Australia is 218,000 Accounts Clerks and Bookkeepers with a further 132,381 Accountancy professionals. These service 2,238,299 businesses. Of these, 38.8% (868,248) employ someone, but 61.2% (1,370,051) do not employ anyone. For those business who employed someone, 70.1% employed less than 4. Less than 0.5% (3,915) businesses employed more than 200 people.
How many of these are at risk of the advances in AI in bookkeeping and accountancy?
AI and robotic requires "big data" and "Cloud Accounting" as typified by Xero or one of the handful of real online applications. Desktop or partial cloud solutions are less able to utilize the AI. Single ledger, multi-currency, real time, with hundreds of app-market place applications providing a full integrated solution.
Three Waves of Automation
PwC (UK) reviewed robotic automation across all professions, and their review was more conservative. Their detailed 2018 Economics Analysis report "Will robots really take our jobs?" analysed tasks in over 200,000 existing jobs across 29 countries and assessed the potential for automation over the next 20 years. They identified three waves of automation that might unfold over this period:
Wave 1 (to early 2020s): algorithmic
Wave 2 (to late 2020s): augmentation
Wave 3 (to mid-2030s): autonomy
During the first wave, PwC expect relatively low displacement of existing jobs, perhaps only around 3% by the early 2020s. But job displacement could increase in later waves as these technologies mature and are rolled out across the economy in increasingly autonomous form. Cloud accounting adoption in 2018 is still only at 30% in Australia, and less than 20% in the US.
For the first (algorithmic)and second (augmentation) waves, women could be at greater risk of automation due to their higher representation in clerical and other administrative functions and especially clerical work.
Wave 3, by the mid-2030s, up to 30% of jobs could be automatable, with slightly more men being affected in the long run as autonomous vehicles and other machines replace many manual tasks where their share of employment is higher.
The business and operating models for Audit and Accounting segment are also expected to shift significantly, as 24/7 automated solutions become increasingly prevalent.
Robotics and AI are Happening Now
Don't think this is not already happening! KPMG have demonstrated automated audits for large firms with a robo-auditor that "analyses millions of transactions, relationships and patterns in moments, even interpreting the results, before flagging interesting findings to the team to explore," explains Sue Horlin, Human Capital Leader at PwC Australia. "In effect, technological innovations are freeing up our skilled workforce to spend their time on higher-risk aspects of the audit and provide more insight and analysis than ever before."
In one example Ernst & Young built over 200 bots in the firm's tax practice operations that resulted in saving ­several hundred thousand hours of process time annually. The firm, which also offers assurance, transaction and advisory services, uses bots for its own core business functions, including finance and performance management. The bots can have accuracy rates as high as 99 percent and can reduce operating costs by 25 to 40 percent or more.
This robotic advance is not just for the big end of town. Companies such as Xero are already starting to introduce AI, with rapidly evolving competence in machine learning and predictive code leading to code free accounting. Their rollout is accelerating. Multiple applications further such automation.
E.g Promis.co eliminates all data entry for bills and additionally provides payments not just for Xero but with multiple accounting software vendors including Microsoft, Quickbooks, Sage and MYOB. When a bill is produced by one business – the receiving business only needs to approve the invoice and confirm timing and payment method. All the other manual data entry work is done by AI and systems. Imagine the time savings if Xero's subscribers 20 million unique recipients of transactions were automatically created / sent / entered / reconciled / audited / validated / paid. There are hundreds of applications now and the two things stopping implementation today is knowledge these solutions exist, and humans reluctance to change.
Benefits of Automation
While there is real concern about the inevitable loss of jobs, predictions show AI, robotics and other forms of smart automation have the potential to bring great economic benefits, contributing up to $15 trillion to global GDP by 2030. This extra wealth will also generate the demand for many new jobs that require education and analysis.
Bookkeeping and Accountancy Practices have to be pro-active in using machine learning and or otherwise their clients will make their own efficiency gains with dire consequences for the bookkeepers and accountants. Actions include:
Leverage skills and knowledge and be proactive with clients. Bookkeepers and accountants are already trusted by the business owners.
Reduce some of those 11 hours of wasted effort that small businesses in Australia incur. Give some of those to the business owners. They will love you for it.
Introduce your clients to the products to increase productivity and profit
Become the business' advisor and not their data entry person
Capture some of that unproductive 11 hours. Work smarter, not harder