Please note that payroll is only available for Australian conversions at the moment.
Payroll setup
Australian conversions include payroll set up if payroll is active in the MYOB or Reckon file. If you have up to 50 paid employees the cost of setup is fully subsidised by Xero. If there are over 50 paid employees you can receive payroll setup in Xero using our premium ACCELERATE package.
PLEASE NOTE Our conversion tool does not handle the complexities associated with future-dated leave. If you have employees that have future dated leave you will need to review and possibly amend the opening balances for leave.
We generally bring across all employees where:
A) The employee is active as at the start of the payroll year
OR
B) They are inactive but meet the following:
(i) There is a payroll calendar set up for the employee
(ii) There is an amount in the PAYG for the employee
C) All employees set-up but never paid
Please note – if you have terminated an employee in the current payroll year they will still come across as active, you will need to make them inactive
If you select a transactional history conversion service you will receive "paid off" bills which represent the actual payments and transactions processed in your file. This ensures that your general ledger and bank account will match the source file.
Payroll is prepared with:
All pay items (excluding employer deductions)
Employee details
Pay templates
Pay cycles
Opening balances as of last payrun in the current payroll year.
Please note in Xero pay items can only be associated with one expense account. If you have used various expense accounts in your source file then you will need to review/add post conversions
We recommend that payroll settings and employee information be reviewed following a conversion including entitlements.
IMPORTANT NOTE FOR RECKON & QB FILES:  Any jobs associated with payroll entries will not come across from the Reckon source file to Xero during conversion.
Transactional history conversions
If you selected a conversion with transactional history you will receive "paid off" bills which represent the actual payments and transactions processed in your file.
Balances only conversions
If you select a balances only conversion you will not be able to view any transactions or "paid off bills" in the system for the history.
Recommendations
We recommend that you check your payroll section in Xero to make sure it is up-to-date with current agreements.
For MYOB conversions, as part of your post conversion Action Checklist, you will also receive information on data missing from your MYOB file.
For Reckon conversions the payroll information is not easily extracted so it will require a thorough review in Xero afterwards.
Remember that you might have to do a manual calculation for the payroll amounts on your first BAS. More information is in our blog.
Preparing for the next payrun
As mentioned above we recommend that you check employee information and Pay Items following a conversion. Often details are missing or in the incorrect field in MYOB or Reckon. Your post conversion Action Checklist will indicate some areas that need to be addressed in Xero.
Superannuation information may not be converted. You will need to set these funds up in Xero following conversion. You will need the bank account details, and USI (SPIN) numbers.
You may have to do a manual calculation for the payroll on your first BAS.
Xero pricing plan
We select the Xero pricing plan based on the number of employees who have been paid in your MYOB or Reckon file in the last 30 days. You will need to contact your Xero account manager if the number of employees exceeds 100. We cannot convert if the number of active employees exceeds 200.
If there is no payroll in your file you will automatically receive a Xero "Standard" subscription, as this is the minimum level we can select for you.
If you want to change your pricing plan you will be able to do so after accepting the link "Take over subscription" sent to you after conversion.
Single Touch Payroll (STP)
Due to the way payroll is converted you will not be able to retrospectively report STP for payruns prior to the date the file was converted. We have a full explanation as to how to do deal with this in a separate article here.
Allowances
During the process our conversion tool will go through the information in the payroll categories and identify any items that contain the word 'allowance'. Any items that contain the word 'allowance' or "allow" will be set up in Xero as an allowance. If an allowance has been converted to an Ordinary Time Earnings you are able to enter a new Pay item for the allowance and do an unscheduled payrun to correct the amounts for the payment summary.
Reimbursements
Reimbursements are identified in a similar manner our conversion tool works by identifying any items with 'reimbursements' in the title. However, there are some additional rules that the software applies, for example in Xero you cannot set up an hourly rate for reimbursements. If you have a reimbursement set up as an ordinary earnings rate then this will be converted as an ordinary earnings rate. This is a system difference between MYOB and Xero.
Pay Cycle (Calendar)
The conversion tool looks at the frequency of pay for every employee processed in the current month. E.g. If you have only processed one pay, then active employees will be set up on a monthly pay cycle and all will be assigned to that.
If your employees are on a forthnightly pay cycle please convert your file after the second payroll for the month.
If you have made a whole series of weekly payments then these employees will be put into the weekly cycle.
Other systems may not support pay calendars or have other methods.  Please check the pay cycles and allocations.
If the employee has not been paid in the current month, then they will not be allocated to a pay cycle.
Notes
We do not bring across any employer expenses. If there are more than 200 paid employees in your file payroll will not convert.
Due to the complexities associated with extracting data there may be additional tidy up required in Xero for missing payroll/employee template information.
Long service leave is not converted.
For Australian MYOB files the Withholding Variation is converted per the following images:
Withholding Variation in MYOB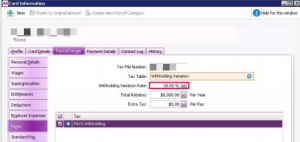 Withholding Variation in Xero