11 Aug

Quickbooks Desktop – File Preparation

Here is our recommendation of what to check before converting to Xero:

MUST DO!
Ensure that the file is set to the correct accounting basis (cash or accrual).
We use the latest version of Quickbooks which requires that all employees have date-of-birth and social security number information in the file, even though we do not convert payroll. Please check this is in place for all employees.
Create a backup from the current file and upload (how to back up from Sage 50, how to back up from Quickbooks).
DO NOT!
Do NOT change any account types prior to conversion.
Do not start a Xero subscription prior to the conversion:

We set up an entirely new Xero org for you based on the file sent to us
Conversion to a Xero 30 day free trial is not available with this service.
OPTIONAL
Verify multi-currency has never been turned on.
Remove duplicate any account names or numbers from your Chart of Accounts.
Run verify & rebuild on the file before submitting for conversion.
Check that balances in all reconciled bank accounts and credit cards actually reflect the statement balances as of the last reconciliation date. Finalize all bank reconciliations. (Reconciliation is easier in Xero, so we recommend leaving unreconciled periods unreconciled in your file. However you need to make sure that the bank balances are correct as of your conversion start date.)
Ensure all clearing accounts (including Undeposited Funds and Electronic Clearing Account) are reconciled to NIL.
Confirm that the Accounts Payable report reconciles to Supplier statements and that all unpaid invoices are still due.
Ensure all credit notes are applied unless actually unused.
Repeat points 3 AND 4 for Accounts Receivable as well.
Run a detailed Reconciliation report (for sales and purchases) as of the last day of the financial year (e.g. 31/12/16) and make sure that it has no Out of Balance amount.
Xero does not allow direct journals to system accounts and we try to fix these automatically.
Check if any Account numbers are longer than 10 digits. If so edit them to be unique numbers of 10 digits or less.
Run a verification of the file. Fix any errors so that the file can be verified without any errors occurring.
To start the conversion go to the Upload page, upload the backup, fill in your details including a Xero subscription email and we do the rest.
Please note that at the moment the size limit for Quickbooks Desktop is 250 MB. If you have a file larger than this you can try condensing the file – see below.
Condensing a QB file
Quickbooks files cannot be purged, but you can clear old transactions with the Condense Data Tool.
Click "File" in the main menu bar.
Select "Utilities" followed by "Condense Data."
Click to enable the "Transactions before a specific date" radio button in the Condense Data window.
Enter your preferred date in the "Remove transactions before" field.
Click the "Next" button and then click "Next again" to complete the procedure.
Create a summary journal entry for each month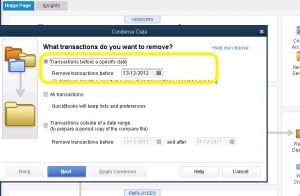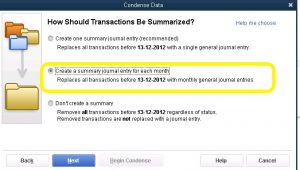 Select "Select None" for Removing the transactions, and similarly with not removing the lists (we will need those).
Then Begin Condense
Notes
Make sure you have a backup in case things go wrong.
If you condense you will not be able to access any of the history removed from the file.